David Shoesmith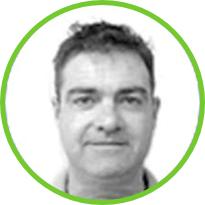 Principal Chemical Engineer
Brisbane


Professional Background
David has been employed by HRL for over ten years and during that time has been consulted to the power generation industry, government regulatory bodies, and other energy intensive clients in mining and processing industries. David has developed projects addressing issues including greenhouse gas emissions production and abatement, greenhouse and energy auditing, technical and practical details of regulatory programs, industry wide approaches to greenhouse and environmental regulations, and energy efficiency improvements.
Areas of Expertise
Energy Efficiency and Greenhouse Gas practical approaches for industry to achieve compliance whilst optimising business outcomes.
Process modelling and optimisation for power generation, processing and manufacturing; considering economic, environmental and engineering aspects of the process and attached activities.
Fuel consumption/conversion assessment, including projects across industries using biofuels, resource derived fuels, waste product fuels, fossil fuels, alternative energy sources etc.
Relevant Project Experience
Greenhouse gas reporting compliance, working closely with a significant number of Australian electricity generators and energy producers with regard to carbon accounting accuracy and business risk: from the facility to the corporate level. Including for Conoco Phillips, Bluewaters Power and Energy Developments Limited.
Reasonable Assurance Audits (both mandatory and voluntary), assistance with correction of compliance problems and with reduction of business risk associated with reporting uncertainty, and in house development of greenhouse compliance programs. Including for Clean Energy Regulator (CER), AGL Macquarie and Stanwell Corporation.
Review and correction of critical equipment and associated data used for greenhouse and other environmental regulatory reporting, and associated business costs (carbon tax, EPA costs etc. Equipment including belt weighers, coal samplers, gas meters, gas chromatographs. Including for Origin Energy, Energy Developments Limited and Energy Australia.
Energy efficiency improvements, energy audits (AS3598:2014), working to identify areas of technical improvement, develop relevant business cases and developing industry guidelines. Including for International Power GDF Suez, AGL Macquarie and Department of Resources Energy and Tourism.
Development of Emissions Reduction Fund (ERF) projects under the Industrial Electricity and Fuel Efficiency Method. Clients require to be anonymous before participation in the CER's ERF auction process.
Qualifications
Bachelor of Engineering (Manufacturing Chemical)
Masters of Agriculture
Professional Associations and Memberships
Member Institute of Engineers Australia (MIEAust) Chemical
National Professional Engineers Register (NPER) Chemical
Chartered Professional Engineer (CPEng) Chemical
Registered Professional Engineer of Queensland (RPEQ) Chemical
Registered Greenhouse and Energy Auditor (RGEA)(NGER Cat 1 - Technical)(CFI Category 1 - Technical)
Member Environmental Accountants Institute Australia (EAIA)