HRL and FedUni sign collaborative agreement
Posted by Trevor Layzell on 19 March 2018
HRL and Federation University (Churchill Campus) have formalised a Collaborative Agreement.
In a very positive step for HRL and its operation in the Latrobe Valley, we have recently signed a collaborative agreement with Federation University at Churchill. The agreement allows immediate access to state-of-the-art facilities and new projects in the university's Gippsland Enterprise Centre precinct.
This is also an important step in developing an Additive Manufacturing Centre of Excellence in the region, with Federation University and CSIRO. Additive manufacturing, often referred to as 3D printing, allows the production of three-dimensional parts layer-by-layer, from a variety of metals and other materials.
Applications the Centre would be considering include large-scale components in the power, defence, and oil & gas industries.
HRL's CEO, Paul McPhee, said that the Centre of Excellence could be a real growth centre with significant jobs. The Centre would provide education and training skills for hundreds of students at the university.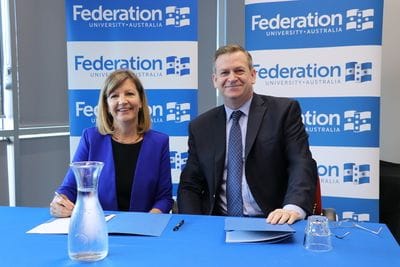 Federation University Australia news announcement
Latrobe Valley Express article

Professor Helen Bartlett, Vice-Chancellor, Federation University and Paul McPhee,
CEO, HRL Technology Group at the signing ceremony on 22 February 2018
Photograph courtesy of Federation University

Author:
Trevor Layzell
About: Senior Materials Engineer
Connect via:
LinkedIn