Process Optimisation Using CFD Modelling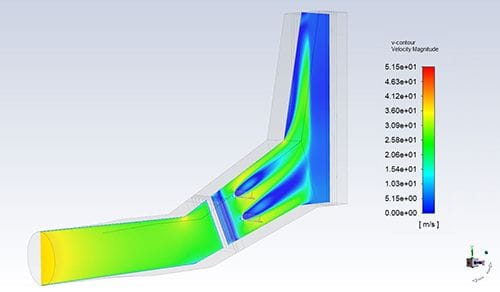 Gas Flow in the Inlet Duct of a Heat Recovery Steam Generator (HRSG)
In an extremely competitive and challenging environment for large energy generators, minerals processors and energy users, there is considerable pressure to maximise plant performance. Every plant operator is facing growing pressure to limit emissions and to minimise fuel and maintenance costs. HRL's expert process modelling services can provide you with a 'look inside' your plant while it is operating. It can help you understand why your plant behaves as it does and provides data and analysis to help identify options for process optimisation and increasing efficiency of operations. Computational Fluid Dynamics (CFD) modelling reduces the risk of proposed improvements by allowing plant owners to understand consequences before taking actions. CFD modelling can be used to analyse and solve a wide array of industrial fluid flow related problems.
Challenges
Optimising plant operation can offer significant benefits, but how do you determine your plant's current level of performance and efficiency? Is your plant living up to original expectations?
How do you identify options for improving its performance?
How do you predict and quantify exactly what impact these options will have on your process?
How do you decide which options are the most cost-effective?
Solutions
HRL uses the latest suite of Ansys Fluent CFD modelling software for process modelling and optimisation of fluid flow systems.
CFD is a powerful method of producing computer-based 3-dimensional models of any flow system. This allows different sets of operating conditions as well as conceptual designs and modifications to be tested and proven in the model before it is implemented.
CFD modelling is capable of simulating systems with 2 phase flow, discrete phase flow, e.g., particle and spray simulations, as well as systems in which chemical reactions are occurring.
These packages are used as tools as part of an overall approach that complements other areas of our business including resource/fuel evaluation, emissions/environmental monitoring, materials engineering, and project implementation.
Examples of applications where HRL has adopted CFD modelling include:
Optimisation of primary air distribution to and in pulverised fuel (PF) fired power station service mills to achieve an even fuel flow to the PF burners
Modelling of the effectiveness and correct positioning of atomising water sprays for flue gas cooling in a power station boiler outlet duct (link to case study)
Modelling of the gas flow and temperature distributions prior to the first superheater row of a heat recovery steam generator (HRSG) with supplementary firing for a range of operating modes
Erosion Modelling of the PF burners at a coal fired power station
Benefits
HRL's extensive expertise in CFD modelling benefits clients by:
Understanding current performance and its limitations.
Allowing alternative modification options and operational conditions to be tested, performance improvements to be quantified and the cost-benefit equation to be determined - all before you commit to any modification work within your plant.
The deployment of highly skilled technologists utilising state of the art modelling software means that the methodology and subsequent results will withstand external scrutiny and provide confidence in the recommendations.
Strong theoretical understanding is backed up by years of practical experience and application of the technology.
HRL looks to provide a solution, not just a research program. We will apply all the tools at our disposal to provide the best solution. HRL assists with both development of the optimum solution and implementation of the solution.