What makes HRL different

Expertise in Action
HRL deliver a range of comprehensive, bespoke services aligned to your specific technical and commercial objectives.
We aim to transform your business, saving you time and money, while enhancing operational performance. With HRL you get 'expertise in action.'
We harness an unmatched, collective brainpower and practical testing capability to solve your most technical challenges, and
give you a competitive advantage.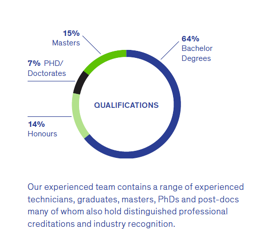 Our experts, our methodology, and our equipment transform business value.
Our team is responsive, hands-on, and able to apply both decades of experience and the latest R&D to create value in solving your technical challenges. We are trusted as part of your team, providing the specialist expertise you need when you need it, often playing the role of 'owners engineers'.
Our experts are skilled in a broad range of disciplines, including laboratory testing, asset reliability, process efficiency, and operational sustainability.
2. Our high-tech testing, engineering and digital capability
We don't just have the best brains in the business, we also have unique, high-end specialist facilities and equipment to back them up.
Laboratories: Fully-equipped NATA and ISO accredited chemical,

metallurgical , and mechanical testing laboratories containing highly advanced specialist equipment.

Specialised on-site asset testing equipment, eg. advanced NDT,

multi-channel flow detection, in-situ pulverised fuel particle sizing, strain gauging.
Applied R&D pilot plant scale-up facilities.
Advanced desk-top modelling, eg. piping flexibility, finite element analysis, computational fluid dynamics, combustion optimisation, process simulation.
Digital platforms for big-data analysis and asset monitoring and optimisation, eg. remote combustion tuning.
Proprietary algorithms and an extensive internal database containing hundreds of years of expertise.