HRL presents lifesaving bushfire mitigation findings at 2016 Chemeca Conference
Posted by Blake Stewart on 20 October 2016
Research and Development of Bushfire Mitigation Technologies
Presented during the Process safety and hazard management session
HRL Technology Group was contracted by the Victorian Government to assist with several activities required to complete their Network Assets Project. This project required power distribution businesses to install new network technologies that will better control the faults in Victorian networks, which may cause fires. HRL Technology Group was involved with several critical studies throughout the project including: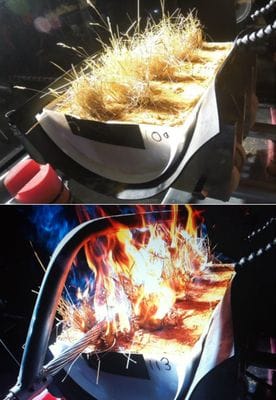 Experimental program to assess the probability of bushfire ignition from electric arc faults
Ground Fault Trials at Frankston South Zone Sub Station in 2014
Vegetation Fault Trials at Springvale West Zone Sub Station in 2015
REFCL Field Trials at Kilmore South Zone Sub Station in 2015
Performing R&D testing using HV equipment on a live network introduced a number of safety and operational challenges. Safety was the highest priority throughout all stages of the project and multiple layers of protection were built into each process:
Both test spaces relied heavily on pneumatically driven pistons and an interlocking system
An interlock on the entry door meant that the door could not be opened until entry was safe
The final layer of protection was the use of earthing sticks, contact and non-contact voltage testers, PPE and Electrical Access Permit's
Other safety measures included the design and installation of a suitable earth grid
All equipment and structures were earthed and connected to the local earth grid at multiple locations
Radio transmitted surveillance cameras provided a live feed of the test facility
Software and hardware protection systems were utilised
All supported by stringent procedures
The Outcomes
The studies completed during the Network Assets Project identified that Rapid Earth Fault Current Limiters (REFCL's) are a commercially available technology which when optimised can significantly reduce the likelihood of bushfire ignition.
The field studies required specially designed REFCL R&D test facilities to achieve the study outcomes. HRL Technology Group's ability to engineer solutions to complex problems including the design and manufacture of first of a kind equipment, process design including sample control and analysis, and data acquisition was pivotal to achieve the project goals.
Download the complete whitepaper

Author:
Blake Stewart
About: Blake has been working at hrl: since 2008 and has been involved in various projects including; fuel characterisation, reactivity testing, thermal conductivity testing, thermal desorption and various agglomeration technologies as well as high pressure liquefaction, dust explosion risk assessments and safety training. Blake has a Bachelor of Chemical Engineering and a IV in Project Management.
Connect via:
LinkedIn