Staff survey highlights hrl: as a rewarding place to work
Posted by Jenny Mate on 22 May 2017

A recent employee survey completed by hrl: team members has provided some great insights into the employee experience of working at hrl: The survey was the first survey completed since hrl: transitioned to new ownership in 2016 and responses clearly indicated that staff members are proud of the work they're engaged in, understood the organisation's values, and are committed to safe work practices.
The highest employee satisfaction scores indicated;
1. Employees are able to have open and honest professional conversations with their managers
2. As a team they are committed to safety
3. The team takes pride in their work
4. Organisation values are shared and known by the team
5. Employees felt their managers cared about them as a person
Director of People and Culture, Jenny Mate, said, "We are very much encouraged by the data that has emerged from our latest survey. Not only does it capture the professional satisfaction and commitment to engaging in quality work , it outlines why hrl: is able to attract quality potential new talent.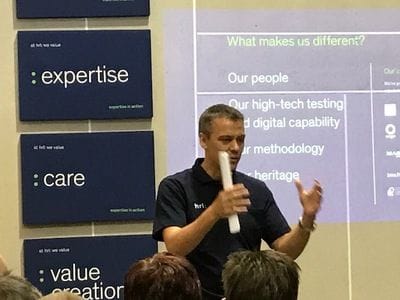 "These scores are representative of hrl: team's pride in the quality of work delivered, their commitment to each other and their teams, and our genuine commitment to safety. We take safety so seriously, that every leadership team and staff meeting starts with a safety review and debrief. Given some of the work we perform at hrl: is higher risk, the fact that our staff understand and value the process of identifying and reporting safety concerns is a great outcome.
"Overall, when I think about why people really enjoy working at hrl: and would want to join the team, it's the chance to work with highly-skilled people who are engaged in challenging, diverse, and leading-edge work that stands out. Working at hrl: provides an opportunity for the best thinkers and problem solvers in the country to work with other likeminded experts on challenging projects. Together, there's no limit to what the team can achieve and we see this every day with our team delivering services that result in increased revenues, reduced costs, smarter use of capital investment, and improved capability for our clients. It's certainly an exciting organisation to be a part of, and it's great to know that our staff really take pride in working and being part of hrl:"

Author:
Jenny Mate
About: Jenny is the People and Culture Director and is responsible for leading the People and Culture function at hrl:
Connect via:
LinkedIn