Analysing and assessing the life of high-energy piping
Challenges
Operators of plant containing high-energy piping, such as that used in power stations, can face challenges in keeping that piping in optimum condition. Operators of coal-fired power stations, heat-recovery steam generators and combined-cycle power stations all need to ensure the continued integrity of their steam piping. Operators of this type of plant are required to comply with the standard, AS/NZS 3788 Pressure equipment In-service inspection.
Typically, piping can fail as a result of: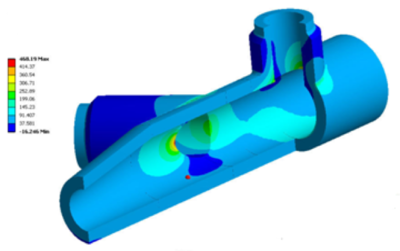 creep damage due to primary and secondary stresses
primary stresses due to mechanical loads
primary stress due to impaired design or operation of pipe hangers
thermal stresses related to its operation.
Solutions
hrl: provides a range of expert services to help plant operators determine the condition of the high-energy piping within their plant and, as required, comply with AS/NZS 3788. Services include:
reviewing drawings and documentation
undertaking hot and cold hanger surveys
undertaking computer-modelled stress analysis
assessing pipe life
preparing reports and recommendations
developing inspection programs.
Case Study
Determining the cause of cracking in high-energy piping
The main steam pipework of a large power station had developed significant cracking damage at the welded connections of the HP-bypass tee and main steam bifurcation branches.
hrl: undertook comprehensive analysis to determine the root cause of the cracking. hrl: personnel modelled the entire main steam pipe and undertook detailed stress and creep modelling of the HP-bypass and MS bifurification components.
Although the flexibility analysis revealed no significant deficiencies in the piping design, detailed finite-element stress analysis of the piping joints indicated that the tee and bifurcation components were generally over stressed at the welded connections with the main steam pipe. Creep analysis of the piping components ascertained the level of creep deformation (strain) at the welded connections of the piping components, confirming the root-cause of the cracking damage.
Extensive creep crack growth and fracture mechanics analysis predicted the life of the HP-bypass and main steam pipework to be approximately 100,000 hours from commissioning.
Benefits
hrl: expert high-energy piping analysis and assessment services help plant operators to:
meet the requirements of AS/NZS 3788
manage the ongoing integrity of their main steam, hot-reheat and cold-reheat piping
improve the reliability of their plant
optimise inspection periods without compromising plant performance
minimise costs by optimising planned outages and reducing the likelihood of unplanned outages
make informed decisions from the objective, understandable reports provided.