hrl: assisted PT Lestari Banten Energy, in Indonesian in a failure investigation work
Posted by Ken Sidharta on 12 September 2017
hrl: was engaged by PT Lestari Banten Energy, in Indonesian, to conduct an investigation on a boiler superheater tube. Following the completion of the site and laboratory works, hrl: visited the plant to provide a complementary face to face discussion with the decision makers to a satisfactory outcome.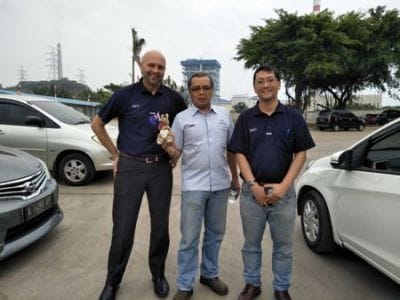 In picture, Steven Kulibaba (General Manager hrl:), Agustinus Sunarto (PT Lestari Banten Energy, Head of Maintenance) and Ken Sidharta (hrl: Lead Engineer for the work).

Author:
Ken Sidharta
About: Over 10 years of experience in the area of root cause failure investigation, corrosion studies and condition assessment of plant structures, high temperature equipment, pressure vessels, piping and fire damage.
Connect via:
LinkedIn