Hydrogen Pilot Plant Now Producing Pure Hydrogen
Posted by Dr Fedir Woskoboenko on 8 July 2021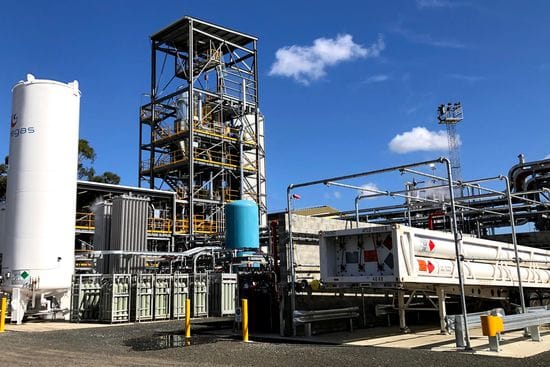 The Hydrogen Energy Supply Chain (HESC) Pilot Plant at Traralgon, Vic., with the hydrogen production trailer on the right. The Pilot plant is managed by JPOWER/JPOWER Latrobe Valley Pty Ltd.
As reported by national media, the Hydrogen Energy Supply Chain (HESC) Pilot Plant has now progressed to the operations and maintenance phase of the project, after having been successfully commissioned to produce pure hydrogen. The project is an Australian first and is one of a handful of feasibility initiatives underway around the globe aimed at demonstrating the practicality of commercial hydrogen manufacture via gasification. Hydrogen provides a stored and transportable energy solution that promises to enable the transition to lower carbon technologies in the energy sector.
HRL and the operations team have been supporting the project since its commissioning, providing technical expertise and the safest of operating environments. The team has had to advance along the learning curve and overcome numerous technical challenges in rapid time and can now boast to be fully conversant with the entire plant; maintenance aspects and in its operation.
Feed stock is fed into the pilot plant where it is dried and crushed then metered into the gasification section where syngas is produced. The syngas is then refined, removing contaminants, and concentrated into pure hydrogen. The hydrogen produced is 99.999% pure. The process is complex, with the smaller scale of the pilot plant creating additional technical challenges, which the team has managed well.
The hydrogen production trailer has now been installed at the site and over the past few weeks of operation has been filling with each operational run. The pure hydrogen produced is pumped to the trailer from the pilot plant at high pressure and it will be transported to the Port of Hastings facility to be liquified. The liquified hydrogen will then be transferred to a liquified hydrogen carrier for shipment to Japan.
HRL's Chris Patterson, Operations Manager of the pilot plant, said "The team has been working on site for over a year. We are proud to have achieved the production of pure hydrogen, enabling the move to the operations and maintenance phase of the project. The hydrogen production runs start at 5 am and finish after dark. Much of the work is challenging but we are fortunate to have a dedicated team, both on site at Traralgon and at our Mulgrave laboratory, who all work brilliantly together and who have each contributed to the successes we have achieved. Our client, J-Power, is very happy with the progress of the project."
For more details about the project and HRL's capabilities please visit our industry webpage, Hydrogen.

Author:
Dr Fedir Woskoboenko
About: Many years of experience in technical, leadership and management roles and is a principal consultant. Technical expert in energy and power. Extensive networks in power and energy industries, government and university sectors.
Connect via:
LinkedIn