Join HRL at ABHUG 2023
Posted by Dr Helena ZHU on 8 November 2023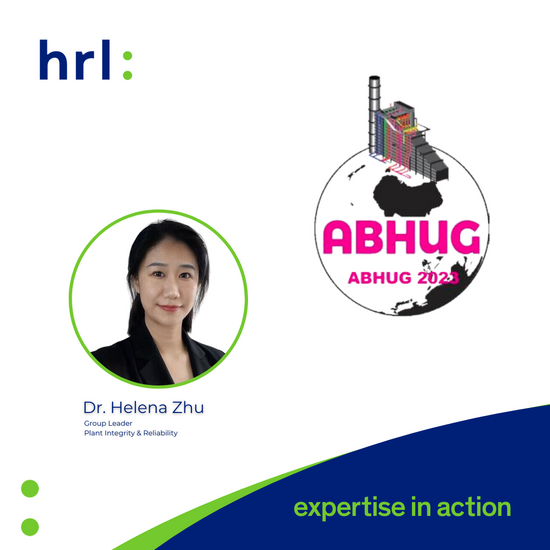 Join HRL at ABHUG 2023 - IAPWS Australasian Boilers & HRSG Users Group Conference and Workshops - 14-16 November 2023 at the Brisbane Convention & Exhibition Centre
We're thrilled to announce our gold sponsorship of the ABHUG Conference 2023. This year, we're excited to showcase our dedication to innovation and knowledge sharing.
Mark your calendars for a thought-provoking presentation by Dr Helena Zhu, at 9.15-9.45 am on Wednesday 15 November. Her insights are sure to be both enlightening and valuable.
Title: Flow-Accelerated Corrosion in a 50-year-old Boiler by Dick Coldham, Dr Russell Coade, and Dr Helena Zhu, HRL Technology Group.
Brief Abstract: An economiser tube failure occurred last year in a 50-year-old boiler. The failure occurred in a region previously affected by Flow-Accelerated Corrosion (FAC). An increase in Dissolved Oxygen (DO) over time led to the development of a protective oxide layer in the historic FAC regions. However, despite these mitigating factors, the failure still occurred. This presentation will share details of this failure investigation and present the potential causes of the damage.
Visit us at booth no. 6 and 7 to meet our five other team members and discover more about the pioneering solutions in boiler and heat recovery steam generation systems, where we'll be sharing the latest advancements and engaging in meaningful discussions.
We greatly look forward to all the conversations, insightful sessions, and the opportunity to forge long-lasting relationships within the industry!

Author:
Dr Helena ZHU
About: Group Leader, Plant Integrity, Reliability and Performance. Senior Engineering Consultant Over 3 years' experience working with the power industry. Experienced in pressure vessel inspection, third party inspection, condition evaluation and life assessment of critical components, development and maintenance of risk-based inspection program in accordance of AS3788. Also experienced in research and development of computational simulation of multi-phase flow (CFD-Fluent).
Connect via:
LinkedIn