Join HRL at Enlit Australia
Posted by Dr Abi Babu on 2 March 2022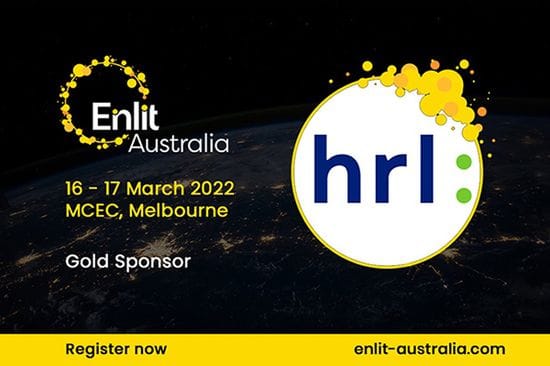 HRL is proud to be a gold sponsor of Enlit Australia, which will be happening in Melbourne on the 16th and 17th March 2022.
Enlit Australia brings together the entire energy industry to connect and shape the world's energy future with inclusive guide to energy transition. The Enlit community will come together for two days in Melbourne in March to meet and inspire each other and to develop their discussions and actions into a plan for the coming year. The conference includes people from multiple energy fields including the traditional and future energy companies.
Our HRL experts will be present at our exhibition stand (B50) to solve your challenges at any step of your project lifecycle. We also have a couple of interesting talks from our very own Dr. Helena Zhu and Dr. Abi Babu at the Leadership summit and Knowledge hub session of the conference. Details of their talk is as follows:
Leadership Summit session is at 15:15 – 15:45 on 16th March on the topic, "Empowering the great energy transition – Market case for a sustainable and profitable change" by Dr. Abi Babu.
Knowledge Hub session is at 13:45 – 14:15 on 17th March on the topic, "Is your Risk Based Inspection (RBI) program still relevant?" by Dr. Helena Zhu.
HRL's exhibition stand will be open to the public and we invite the energy industry to meet us to know more about what we do to help our clients achieve their decarbonisation goals.

Author:
Dr Abi Babu
About: Experienced in the development, testing, quality assurance and commercialisation of emerging industries and future fuels, including hydrogen and ammonia. Over 5 years' experience in research and development of new aerospace alloys for additive manufacturing (3d printing). Expertise in advanced microstructural characterisation, corrosion evaluation and life assessment of components using advanced in-situ/ex-situ techniques.
Connect via:
LinkedIn